Tea vendors started to gather in the temple town in front of the Minamidaimon gate of Toji, which was crowded with many visitors.
Occasionally, those tea vendors met sudden incidents.
In the previous story, a fire broke out, originated by a hibachi (charcoal burner) of a tea vendor, and it was decided to expel them from the Toji area.
What would happen to the tea vendors?
Even though the fire was caused because of their fault, tea vendors were at a loss.
The representatives of Toji would not listen to them through a direct appeal. Therefore, the vendors decided to turn to Wakasa Hogen Ien (若狭法眼以円), a monk at the Sampoin building of Daigoji (醍醐寺三宝院).
Sampoin had been closely related with Toji. Several other letters that Ien sent to Toji are also included in the Hyakugo Archives.
Did the tea vendors have a connection with Ien?
Twenty days after receiving the request from the tea vendors, Ien submitted a letter to Toji on April 22, petitioning the re-permission of trading in the Toji area (Item 118 of Box-YA(Hiragana)).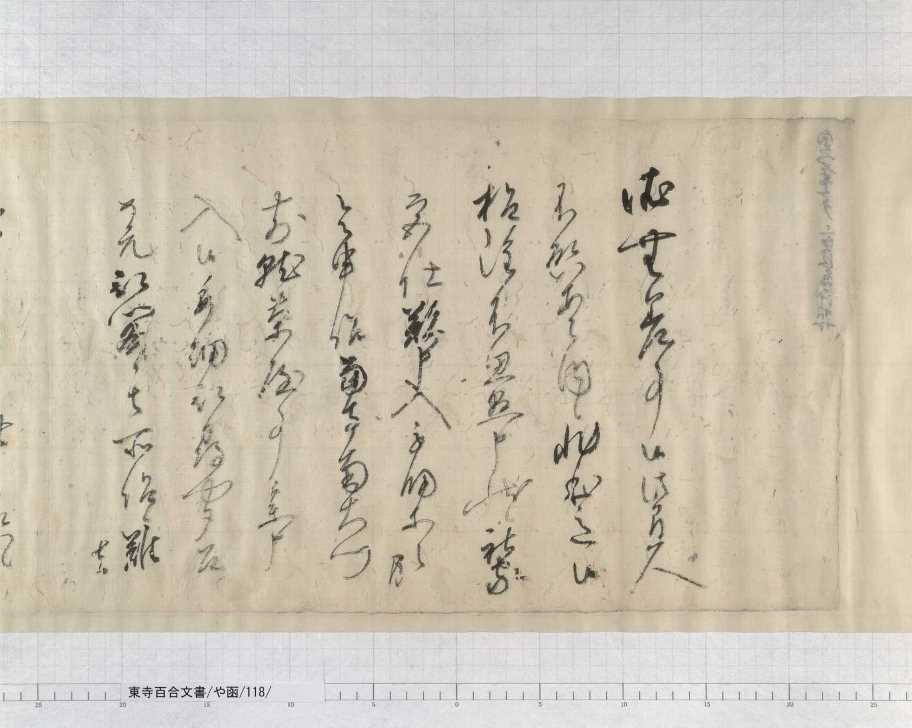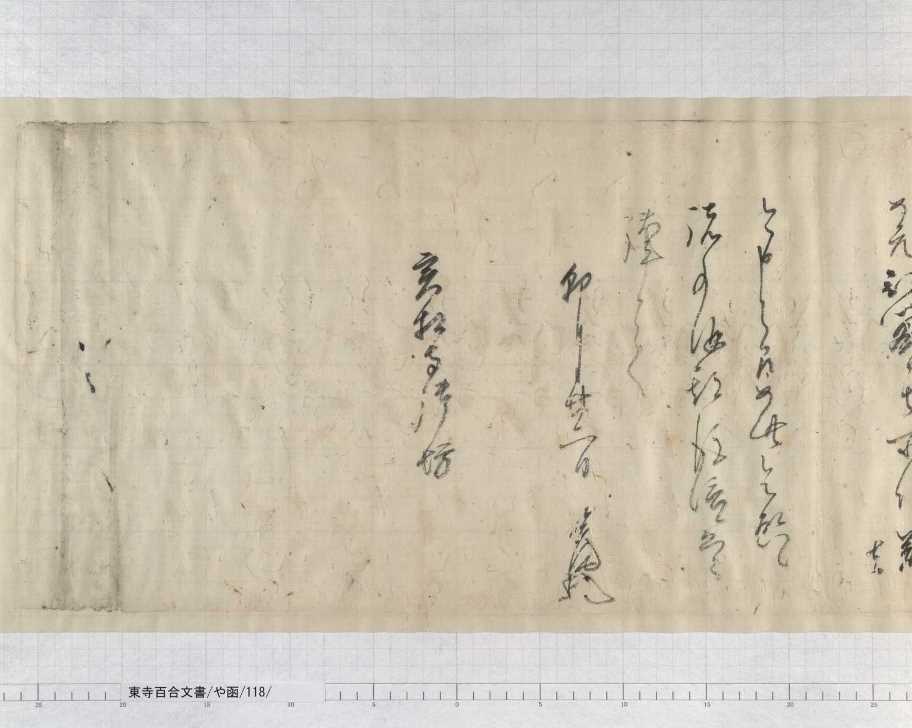 Toji reluctantly responded to this petition, and admitted the restart of trading under additional conditions. Their new decision is recorded in the minutes of the meeting held on July 20, 1404 (Item 1 of Box-KU(Hiragana), "Nijuikku-kata Hyojo Hikitsuke"(廿一口方評定引付)).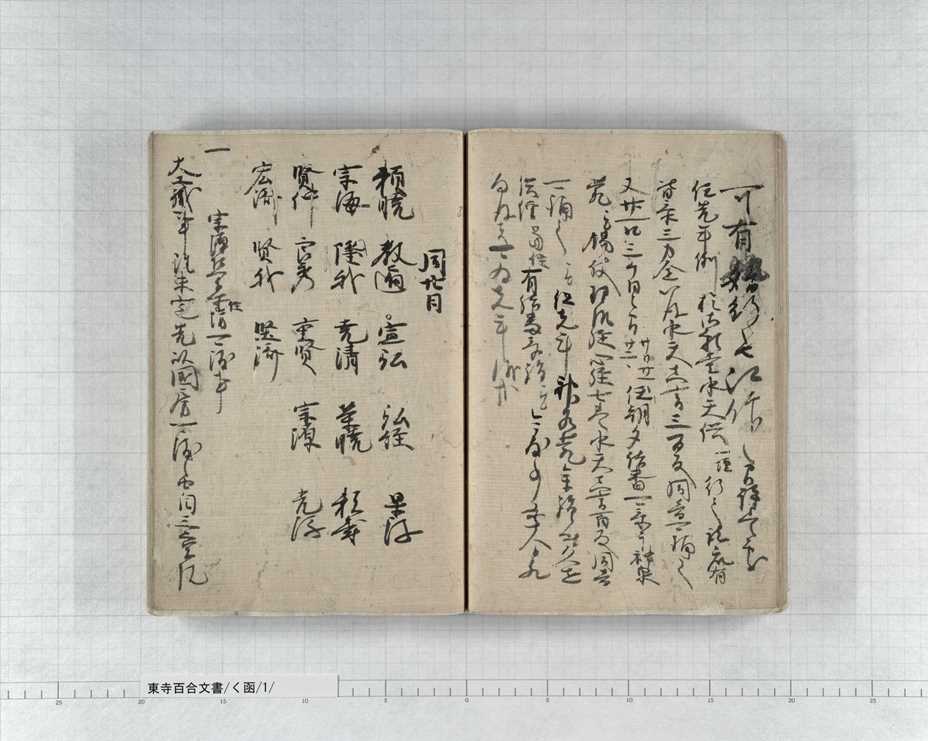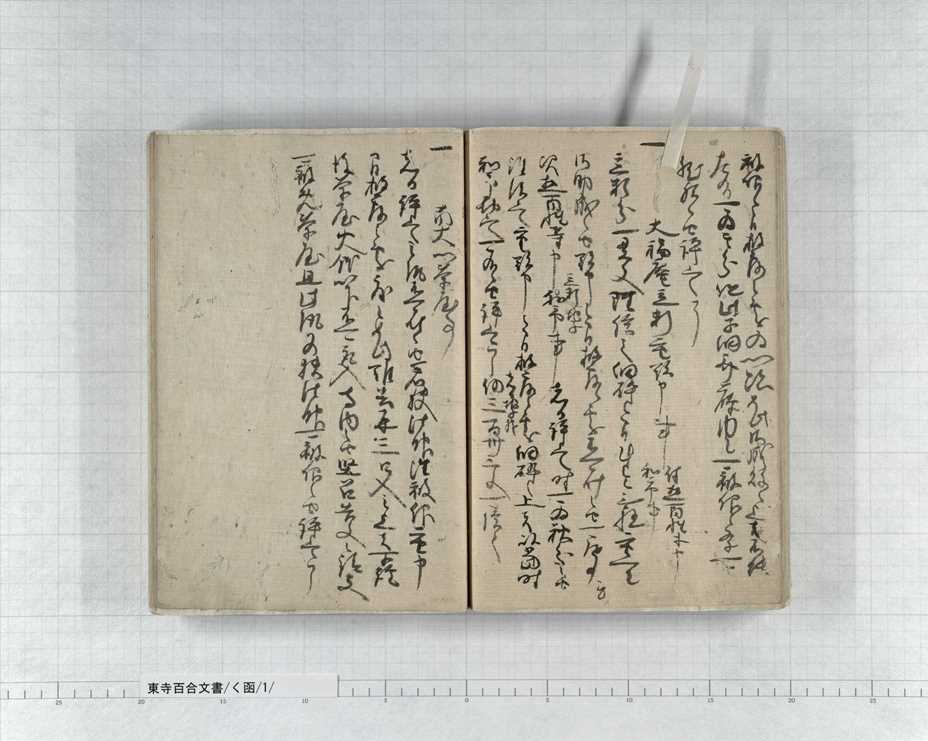 On July 23, tea vendors were required to submit a new written oath as follows, to restart trading (Item 61 of Box-SHI (Hiragana) )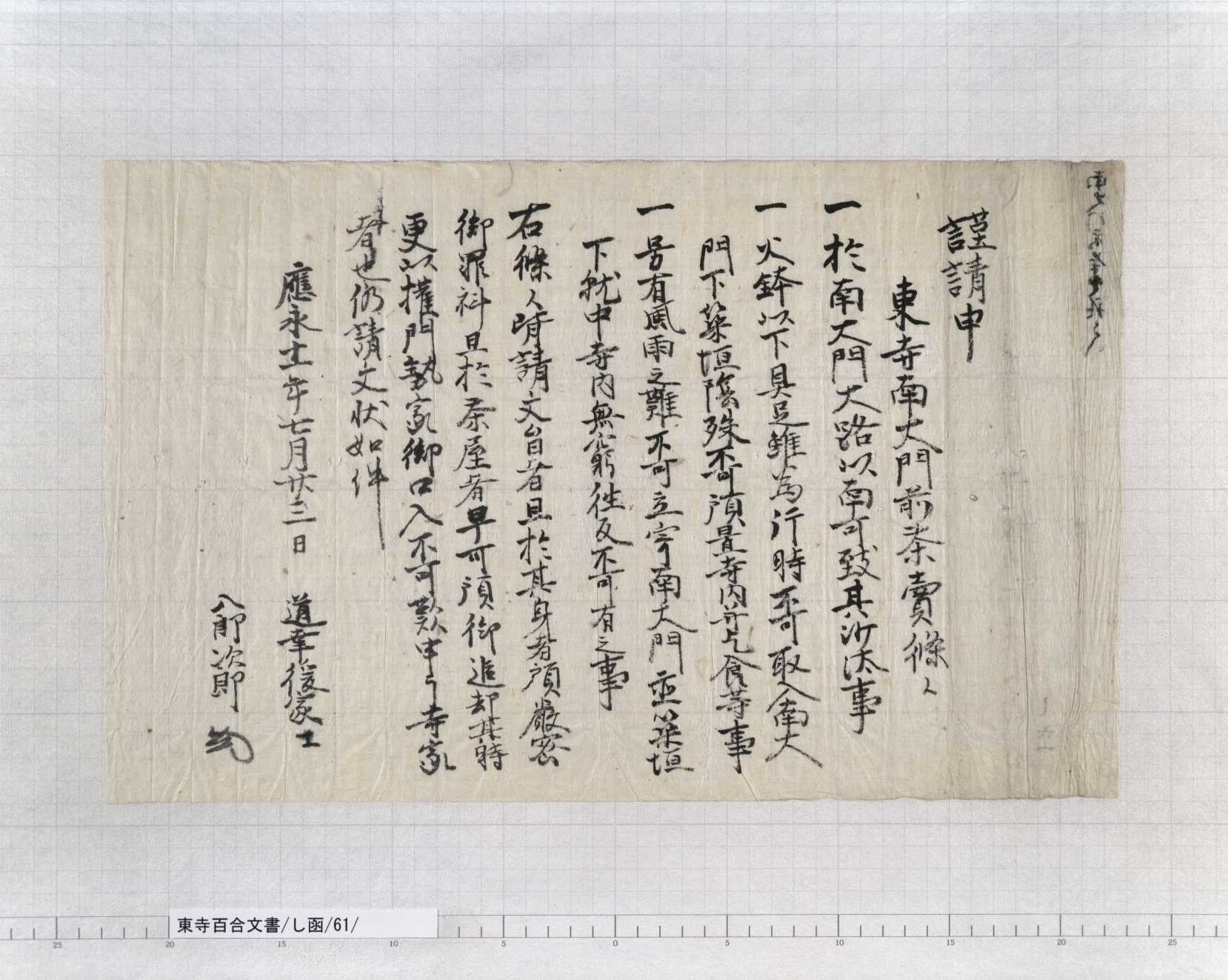 With this new oath, tea vendors were additionally required:
○ To do business only to the south of the Minamidaimon Oji (Kujo Oji) across from the Minamidaimon gate;
○ Not to put a hibachi (火鉢 charcoal burner) or tea utensils beneath Minamidaimon or behind the Tsuigaki (築垣 stone fence), nor deposit them in the temple;
○ Not to take shelter from the rain under the eaves of the temple, nor ramble around its precincts;
among other requirements.
Compared to the former oath mentioned in the previous story , the new oath apparently geared up restrictions on the admitted activities and the range of movement for tea vendors.
Furthermore, the representatives of Toji did not forget to have the vendors pledge "not to ask a Kenmonseika (権門勢家 influential person) for help" at the end of the written oath, probably hinting that there would be no second compromise mediated by Ien or whoever.
Do you think this oath settled everything?
But no, seven years after this, tea vendors were once again required to submit a written oath (Item 54 of Box-YA(Hiragana)).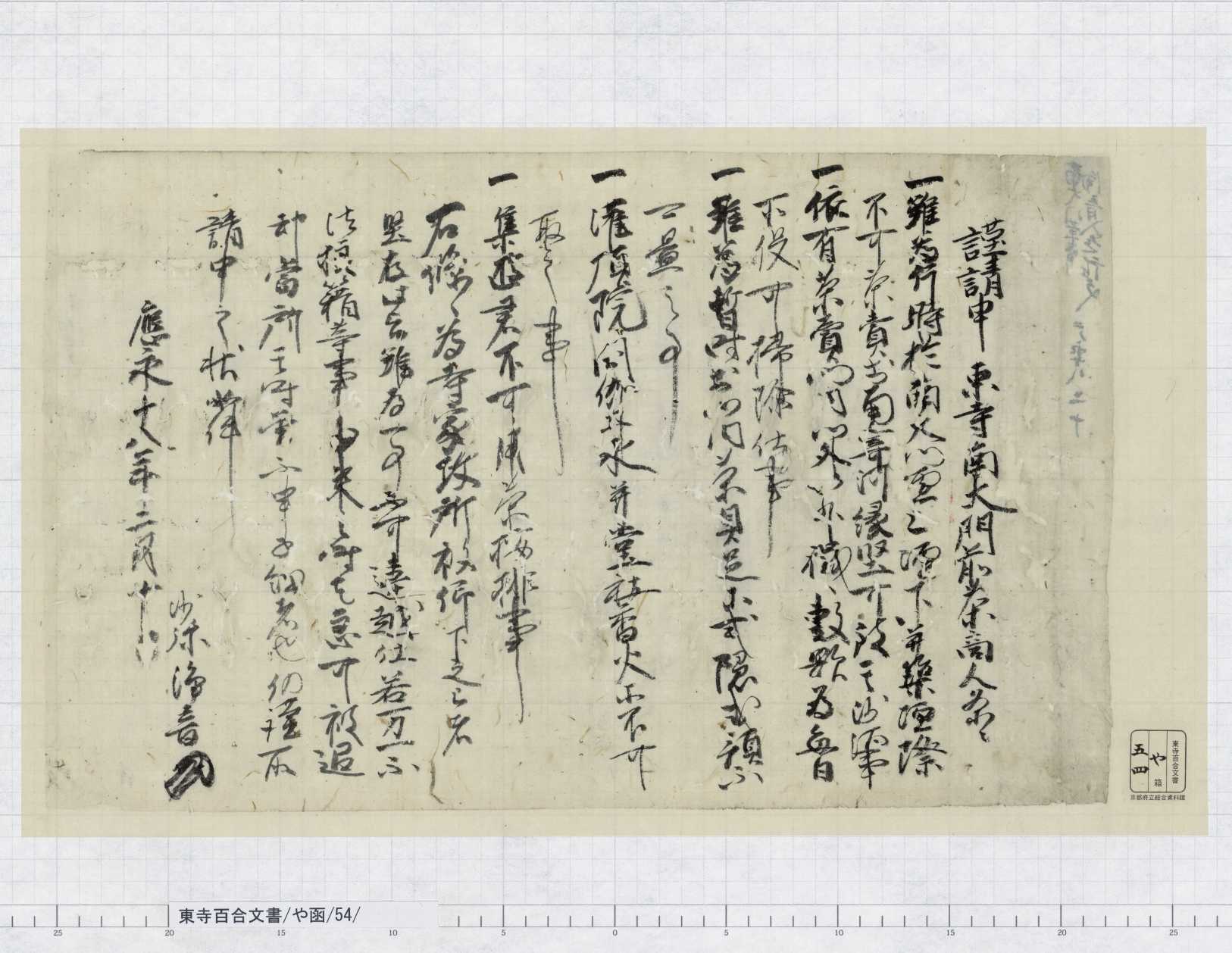 New rules were added to the existing requirements, such as:
○ To clean inside and outside Minamidaimon every day, because the area has become dirty due to trading by tea vendors; and
○ Not to gather prostitutes and have them serve visitors.
It seems that visitors were gradually increasing, and tea vendors were not discouraged by repeated regulations, but continued to come up with new ideas and vigorously did their business.
The last oath indicates that the tea business in front of the temple became prosperous and its scale became larger. We can feel the atmosphere of the busy temple town from this document.
◆Chronology of related events◆
April 1403 Tea vendors submitted the first oath (Item 98 of Box-KE(Katakana))
April 1, 1404 A fire broke out
April 3, 1404 Toji decided to expel tea vendors at a Nijuikku-kata Hyojo (Item 1 of Box-KU(Hiragana))
April 22 Tea vendors had a letter petitioning for the restart of business submitted (Item 118 of Box-YA(Hiragana))
July 26 Toji admitted the restart of business at a Nijuikku-kata Hyojo (Item 1 of Box-KU(Hiragana))
July 23 Tea vendors submitted the second oath (Item 61 of Box-SHI(Hiragana))
February 10, 1411 Tea vendors submitted the third oath (Item 54 of Box-YA(Hiragana))
Isn't this a breathtaking process of offensive and defensive acts?
The records also indicate that Toji frequently held meetings and rapidly responded to various issues.